17.06.15
Ealing Mental Health First Aid Courses a Success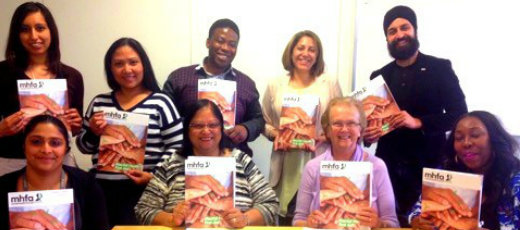 Ten Mental Health First Aid courses later and we've released nearly 100 new First Aiders into Ealing! Congratulations to everyone who attended and completed the two-day events.
Ealing Public Health commissioned Twining to deliver the courses to local front-line workers between February and May 2015. All our new First Aiders can spot the signs of mental ill health and, more importantly, know what to do to support someone. This could be any one of the often vulnerable people that they come across at work as well as a colleague or family member.
My newly acquired knowledge; I feel confident to use it at work and in my personal life.
The First Aiders told us that their confidence in supporting others and their understanding of mental health increased greatly after the course. In fact every single person gave us positive feedback for the course overall, rating their experience 'very good' (86%) or 'good' (14%). They'll all go on benefiting from MHFA and have comprehensive reference manuals to help them put it into practice.
We were pleased to see staff from the Council, NHS, Police, Job Centre Plus, Housing Associations and a large contingent from the voluntary sector take up places on the course. It is especially important for these front line workers to have the skills MHFA provides as they will often come across vulnerable and ill people who need help.
It is a course that everyone should do, even if they do not work in a mental health setting.
With over two thirds of the new First Aiders coming from black and minority ethnic groups (BAME), we are proud to be helping to improve mental health literacy across Ealing's communities.
Well done to all of Ealing's new Mental Health First Aiders - we're sure MHFA will continue to have a positive impact in your workplace and beyond!
If you would like to find out how Mental Health First Aid can help your organisation give its front line staff the skills and confidence to look after your customers, contact us or visit our workplace MHFA training pages for more information.
Back to top ↑