Mental Health First Aid
Our Mental Health First Aid training equips employers and their staff with the knowledge, skills and confidence to help a colleague, customer or client.
Mental ill health costs UK employers £34.9 billion and 91 million working days lost, each year. Being able to recognise the signs and symptoms of mental ill health is a vital part of employers responsibility to the wellbeing of their staff.
Our expert trainers affiliated with MHFA England, deliver recognised MHFA trainings in formats (2day, 1day or half day) that are tailored and adapted to your organisation and its needs.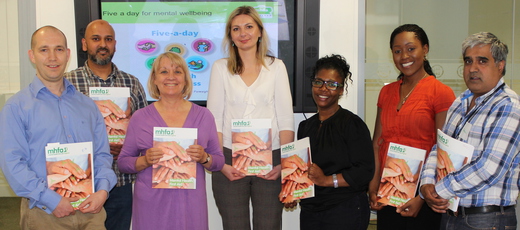 Why MHFA is important in the workplace
Far more people will suffer with their mental health in the workplace than will require physical first aid. In addition, mental health problems are common and costly for business:
Stress, anxiety and depression are the most common reason for staff sickness absence – that's even more common than musculoskeletal or back problems!
The Centre for Mental Health found that the cost to employers of poor mental health is more than £1000 per employee, per year
Due to stigma and a lack of knowledge many mental health problems remain hidden, dismissed or ignored in the workplace
MHFA is one of the best courses I have been on in a very long time and I would like to have a refresher course every few years
About MHFA Training
Aim of training is to increase understanding of mental health issues, signs and symptoms. To give attendees confidence and knowledge to have a mental health conversation, provide initial assistance to someone experiencing a mental health issue and signpost to support. The Adult MHFA Two Day course qualifies you as a Mental Health First Aider.
Mental Health First Aiders have:
An in depth understanding of mental health and the factors that can affect wellbeing
Practical skills to spot the triggers and signs of mental health issues
Confidence to step in, reassure and support a person in distress
Enhanced interpersonal skills such as non-judgemental listening
Knowledge to help someone recover their health by guiding them to further support - whether that's self-help resources, through their employer, the NHS, or a mix
How much does it cost?
2 day course for up to 15 delegates £2500
1 day course for up to 15 delegates £1200
Half day course for up to 25 delegates £850
Bespoke options available upon request
Back to top ↑