Workplace MHFA training
Mental Health First Aid equips you and your staff with the knowledge, skills and confidence to help a colleague, customer or client. With three in ten people experiencing some kind of mental health problem at work; being able to recognise the signs and symptoms of mental ill health is crucial.
Our trainers can deliver a two day MHFA session or half-day 'lite' version to staff in your workplace, tailoring the sessions to your organisation and its needs.
Book your course now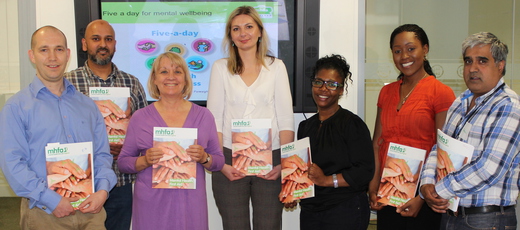 Why MHFA is important in the workplace
Far more people will suffer with their mental health in the workplace than will require physical first aid.
In addition, mental health problems are common and costly for business:
Stress, anxiety and depression are the most common reason for staff sickness absence – that's even more common than musculoskeletal or back problems!
The Centre for Mental Health found that the cost to employers of poor mental health is more than £1000 per employee, per year
Due to stigma and a lack of knowledge many mental health problems remain hidden, dismissed or ignored in the workplace
MHFA is one of the best courses I have been on in a very long time and I would like to have a refresher course every few years
About MHFA Training
The training is available as a full two day course and also as a "lite" version, providing a half-day overview.
All materials are provided, and delegates leave with action plans and comprehensive resource booklets. These will continue to act as a reference and have a lasting positive impact within your organisation.
The course teaches how to:
Spot the early signs of a mental health problem
Help stop a mental illness from getting worse
Help someone recover faster
Reduce the stigma of mental health problems
Twining and MHFA
Our instructors are qualified, experienced, and informed by Twining's years of successfully supporting people with mental health problems in and into work.
We can deliver MHFA in your place of work and can discuss your specific needs in advance to tailor courses and make them relevant to your organisation and staff.
This needs to be rolled out to other departments; professional delivery of content, yet done in an engaging & confident manner
Booking
If you would like to find out more or book a course for your organisation or a small group, please contact us:
020 8840 8833
employer@twiningenterprise.org.uk
Back to top ↑