Support every step of the way to flourish at work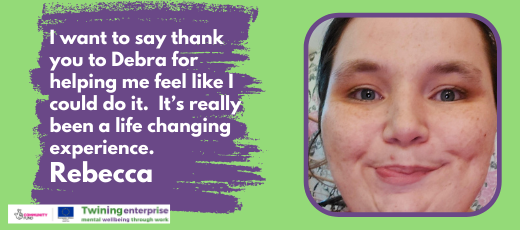 Rebecca had been experiencing some mental health challenges before being referred to Twining, where she met Debra, her dedicated Employment Specialist. Debra supported Rebecca to find work experience and training courses in her two chosen fields – animal management and customer services. Here Rebecca tells Twining about the help she received to achieve more than she ever imagined…
I was seeing a mental health team for support with depression and anxiety and told them I was finding it hard to find work and everything; basically, I was just getting fed up of constantly getting refused work. The mental health team referred me to Twining enterprise who then referred me to Debra. She was amazing.
I wanted to work with animals or in a customer service role. One day, I would even love to work in a zoo. Debra worked with me to get several voluntary roles and training courses in both of these areas.
Firstly, Debra got me work experience at an inner London farm – without her I would never have got this experience. She also helped to get me onto a Princes Trust course on animals – which was absolutely amazing! The best bit of the course was *everything*!
It was really hands on – but I also got a book I needed to complete as well. I really loved my teachers on the course – they really helped me if I didn't understand something. I needed to do animal checks – their teeth, nails, hair everything – it was an amazing experience.
Debra has also now got me another course to do more animal care stuff – an Animal Management course. I'm just waiting for them to get back to me and I can't wait to start.
Without Debra I also wouldn't have got work experience at two big high street retailers.
Literally everything Debra did was amazing; she helped me to learn about the training courses and then she would do catch-ups with me to advise me about the training, then if I hadn't followed up with them, she would help me with that.
Debra was so easy to talk to – she spoke to me about everything from the training to my mental health and my finances too. She was amazing. She also gave me practical support on creating my CV and writing covering letters. Debra helped me to feel more confident in myself. I felt like I could talk to Debra with ease – I never felt judged by her at all.
Today I volunteer at a leading high street charity – I wouldn't have got that opportunity without Debra – I'm so grateful for her help with that. Also, any difficulties I have in that role, she helps me with.
I've even now been offered a lead volunteer role with them – and I'm about to start training for the role tomorrow. Although I'm a bit nervous about doing the training and the role, going for the role is my way of saying thank you to Debra – without her I wouldn't have even gone for this role. So, I want to say thank you to her for helping me feel like I could do it. It's really been a life changing experience.
Please note - This charitable project is funded by the European Social Fund and The National Lottery Community Fund.

Back to top ↑