6.08.14
Get on your Bike!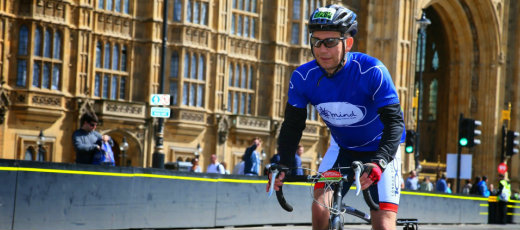 Andy Webb is Twining's Development and Capacity Manager at Twining Enterprise; here he writes about his re-found passion of cycling and the relationship between mental wellbeing and physical exercise.
I've always been a cyclist – I still remember learning to ride without stabilisers on a concrete path down the side of parents' house, and yes, it was a long time ago! I used my bike for my paper round and cycled to school and later to college. Later in life I got into mountain biking.
Over the last year or so I have rediscovered cycling and joined the MAMILs (Middle Aged Man in Lycra). Cycling to work through Richmond Park has proven to be a much nicer way to travel; far less stressful (and quicker) than being in a traffic jam. At weekends I have been out for many long rides through the beautiful Surrey Hills and out into Berkshire around the Thames.
I got so excited I signed up for the Prudential Ride London 100 on the 10th of August, and chose to use the opportunity to raise money for Mind, a mental health Charity.
For me there is a close relationship between physical activities like cycling and mental wellbeing/stress management and I'd like to share some here:
Physical Exercise is good for you. There is a proven relationship between physical exercise and mental wellbeing. Studies show exercise releases chemicals called endorphins and these in turn can affect your mood. This article from Mental Health Foundation explains this relationship more fully.
Exercise is one of the '5-a-day' for your mental wellbeing; five simple daily actions that when incorporated into our day-to-day lives help our mental well-being.
Taking notice of your surroundings. Cycling gets you out and about, visiting new parts of the country and, if you plan a good route, enjoying the countryside too.
Socialising. MAMILs can be social animals. There are many cycling clubs and less formal groups out there. Joining up with like-minded (and like-clad) people is a great social activity. Socialising enables us to communicate with others and feel less isolated.
If you want to get out there and get cycling, get a bike and start – it doesn't matter how slow or how unfit you are. Like everything else in life, set your goal and just work toward it one step (or rotation of a pedal) at a time.
If you want to know how Andy's bike ride went and support him, take a look at his blog. You can also follow him on Twitter @Twining_Andy.
Back to top ↑