Support in job search following redundancy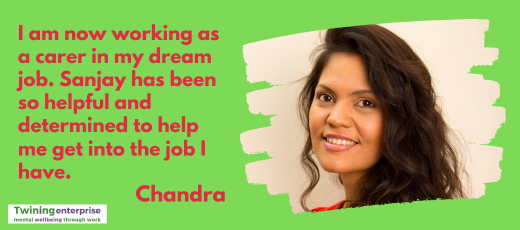 Following redundancy Chandra was really struggling with her mental health and her ability to cope with life, like she once did. Her fear of being rejected by a potential new employer became so much that she needed help to re-start her job search. Chandra's mental health team suggested getting in touch with Twining Enterprise and this is when she met Sanjay, her dedicated Employment Specialist. Here Chandra tells us her story in her own words…
I was made redundant in 2018 and since then I have been struggling with my mental health and struggling to cope with life. My mental health team put me in touch with Twining Enterprise when I was feeling ready to get back into work.
I needed help searching and applying for jobs, and because I was out of a job for so long, even though I was motivated I was scared of being rejected. I started working with the Twining team in August 2022. I was assigned to Sanjay, my Employment Specialist. We had our first meeting on the 22nd of August and got straight to work. Sanjay was very professional and assisted me in refreshing my CV and showed me where I can look for jobs and how to go about it. Sanjay also let me know that it's OK if an employer doesn't accept my application. He spent a lot of time helping to deal with my fear and emotions.
Not long after I found a job in a pub where I knew the manager. After a few months it started going downhill as I felt my manager was not being fair with my workload and was pushing me to work outside my agreed contract hours. I met and spoke to Sanjay about this matter and was advised on steps to take. Sadly, due to how bad it got, I ended up quitting. Sanjay continued working with me and at this point in time I knew what career path I wanted to go down. I met and spoke to Sanjay about this and we started looking for jobs in the care sector and a month later I found a job opportunity as a care worker. Sanjay helped prepare me with interview tips which was very helpful.
After I got the job I was constantly being asked by that employer to send over documents and this went on for nearly two months. In the end I gave up because it was stressful. I had a few months gap then applied for over fifteen care jobs; some I got interviews for and others I didn't. Finally, I got the job I am in now.
I am now working as a carer in my dream job. I started in May and I couldn't be happier. Sanjay has been so helpful and determined to help me get into the job I have. He was helpful in pointing me in the right direction. Giving advice he listened to what I wanted and went the best route possible to make sure I got there. He has been such a positive blessing in my life and I couldn't thank him enough. Even when I was down and emotional he was there to listen and give me advice.
Back to top ↑