I now have some understanding of who I am and what I need from life...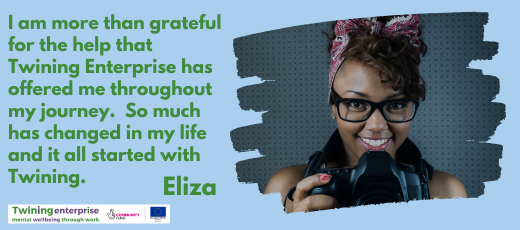 Eliza had been suffering with severe anxiety and depression, finding it hard to leave the house, but also knowing she had to start a new life back in London… with the help of her Twining Enterprise Employment Specialist, Sonali, and Educational Specialist, Kam, she has now started to believe in herself and is exploring her passion for photography with practical business support from The Prince's Trust. We spoke to Eliza to ask about her experience working with us…
What was your life like before finding Twining Enterprise?
I have just come back from a year's trip in a place I wished I never went to. Before leaving for the trip, my mental health was deteriorating, and my body had given up on me which forced me to take a break. After coming back last year, I was struggling to get back on my feet. I lost my sense of identity, couldn't recognise myself in the mirror, and came with a lot of suppressed emotions, thoughts and pain. The entire time I was in Somalia.
I had nobody to talk to, there was no safe place for me to relax. I pretty much isolated myself for my safety but at what cost. Throughout 2022, I was slowly opening up, but the thing was, I had no idea how to control my anxiety or depression, even the nightmares, were getting too much. I couldn't sleep and I would overeat. Knowing I was back home in London, I had to rebuild my life, gain some sort of stability and adjust to being back. But I had no idea how hard this was going to be and how my mental health was going to challenge me.
I couldn't leave my house, I would have crippling anxiety as soon as I got to the front door to leave, then I would go back to change my mind. Panic attacks twice a week. Moving and talking slowly… absent minded… forgetful. The crisis team had to step in, they increased my medication and gave me counselling for six months. Someone always had to come to my house to check on me and see that I'm taking the medication and I'm not doing anything to harm myself and others.
How did working with Twining Enterprise help?
I decided to go on antidepressants to give me some sort of control over my day along with the encouragement of my sisters. My job centre told me to go to Fulham for a job fair they were having and Twining Enterprise and Sonali were really helpful and welcoming.
Sonali was the first person to start believing in my passion for photography and slowly we talked about making a better reality. We did an emotions update every two weeks to see where my head was at. We worked on my CV, applied for different jobs, while communicating about my anxiety and depression. We looked for the right people and support available.
We went from shop to shop in Westfield to talk to employers and see if they had any opportunities available. After three months of the Crisis TEAM, they discharged me, but they have coffee groups every Thursday for people that are dealing with mental health challenges. Even though I was discharged, I still go to the coffee groups every morning on a Thursday. This group has helped dramatically and connects me with people who are dealing with similar challenges.
Kam suggested The Prince's Trust to me because at the time I wanted to apply for a photography course with the Academy-photography. Since I am a self-taught photographer, I'm lacking the business side of things, but registering with The Prince's Trust was the best decision I've made.
What's happening in your life now?
I have an exhibition coming up! I was invited to showcase my work. This is the first time I've done something like this for my career. Now I am registered with The Prince's Trust, who are helping me build my photography business. I have now got my mentor, which I am excited about. At the moment I am working on my business plan and planning a new portfolio.
This is not what I was expecting, but I am more than grateful for the help that Twining Enterprise has offered me throughout my journey. Now I am with a new counselling team regarding my PTSD anxiety. Even though sometimes things are as challenging as always, I now have some kind of understanding of who I am and what I need from life. I am a little bit more comfortable than I was before, as well as confident, and ready to make changes to my life for myself. So much has changed in my life and it all started with Twining Enterprise.
Please note - This charitable project is funded by the European Social Fund and The National Lottery Community Fund.
Back to top ↑