From deep depression following Covid-19 loss to healing through work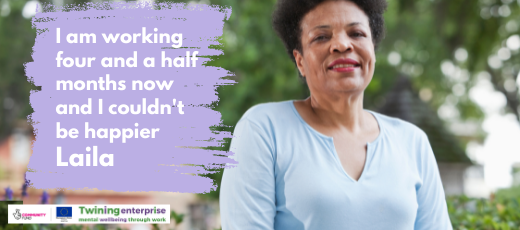 Meet Laila, who was hit hard by the Covid-19 pandemic, losing her husband and then sinking into depression. However, with the support of Twining and Smart Work, she is now healing through her work as a care assistant in her community. Read Laila's story, as told in her own words to her Twining employment specialist Sandra…
When I met you and you told me that you are here to help me get back into work, I told you "yes", but in my heart, I was saying "no".
But by talking to you each week you encouraged and motivated me to go back to work; I am grateful for your support.
I have been through a lot from October 2020 to October 2021; I lost my husband in the Covid pandemic. We both caught Covid-19 and I was in the hospital where he died. After I was discharged from the hospital I was afraid to leave my house and went into depression for a year. I was also afraid to socialize with people thinking I would catch Covid 19 again.
You introduced me to Smart Work, a charity organization that gave me a makeover. They are wonderful and caring people, they made me feel relaxed and comfortable around them. I gained back my confidence and worked hard as a care assistant in my community.
I am working four and a half months now and I couldn't be happier. I still miss my husband, but I am taking it one day at a time. I am healing but slowly; I enjoy my job and meeting people everyday thanks to you and Twining Enterprise.
Please note - This charitable project is funded by the European Social Fund and The National Lottery Community Fund.
Back to top ↑