Developing confidence in the search for work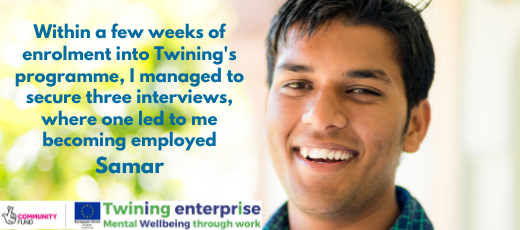 Meet Samar, who has developed independent job searching skills and seen his confidence grow…
I had not worked for a long time as an employee, but instead as a sole trader and thus when I applied for many jobs, I kept failing and not knowing why, as I didn't get feedback from the employers that I applied to.
I was referred to Twining Enterprise. My referral went through and Debra Charles took my case where she looked through my CV and gave a lot of tips on how to improve said CV, from what to write, to what not to write.
Debra also gave a lot of pointers on how to draft a good cover letter that would grab potential employers' attention. To supplement what she advised, she furnished me with some Word documents that listed down all of what she advised verbally and more, in a written form.

I did as she advised; revising my CV and drafting a solid cover letter each time I applied to a role I was interested in.

Through my job applications, and within a few weeks of enrolment into Twining's programme, I managed to secure three interviews, where one of the interviews led to me becoming employed.
I was hired on a temporary contract and I'm now on another job search, though I'm now more confident in sending my applications because I know the chances of me hearing back from an employer is now much higher than before, with my current CV and cover-letter writing skillset, as given and shared by Debra.


Back to top ↑