David recovers his confidence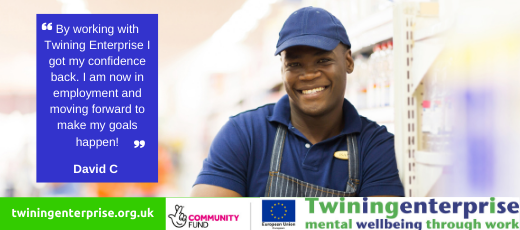 When I was referred to Twining Enterprise I was struggling with my confidence while applying for roles and had high anxiety levels with regard to my situation, and especially how COVID-19 would impact my job search and other personal issues.
​I was lucky enough to be linked with Jasmin who was a calming influence on me from the very first conversation. Without judgment or pity, she helped me understand that it was ok to feel the way I did and that I was not alone. By working with Jasmin on the wording of my cover letter and applications, I was able to get my confidence back, and apply for better roles. I was also able to deal with unsuccessful applications in a way that allowed me to move forward rather than dwell on the negatives.
​I am now in employment and moving forward to make my goals happen! I now have the resilience to know it will happen even if it takes a little longer than expected - I just need to put the work in to ensure I give my best in every situation. I also no longer concentrate on what other applicants have that I don't or what they've done in the interview. I have no control over that, or the decisions that are made. If I know I have given my best there is nothing more I can do and Jasmin gave me that so I am forever thankful for her.
David
Back to top ↑