Shelley's J2E Journey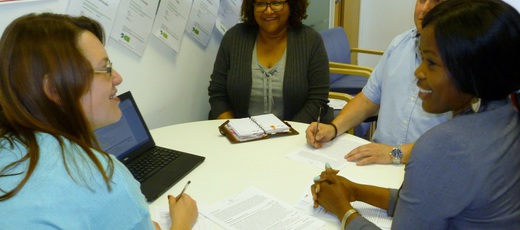 When Shelley attended J2E run by Twining she had been on ESA since the end of May 2017. Prior to this she had been a teacher. Shelley had left her last teaching job in 2015 due to bullying, leading her to lose confidence, self-esteem and motivation. She also had a range of physical ailments which combined were proving a considerable barrier to getting back to work.

She had lost her passion for teaching and this had resulted in anxiety around working and socialising. As a result of this she had been prescribed medication to take for anxiety.

Shelley met our Employment Specialists Ben and Caitlin in Woolwich job centre, Shelley was extremely anxious but found Caitlin's professionalism and Ben's community links reassuring. Shelley wasn't sure what to expect, but after doing some research on Twining Enterprise as an organisation and finding that wellbeing is at the centre of our mission, decided to give the group a go.

Prior to meeting Caitlin, Shelley's worry was that she was going to be pushed into retail work or a job that wasn't specific to her skills.

Shelley had some positives from the first week realising it isn't a target driven programme, and there wasn't too much pressure. However, this wasn't enough to keep Shelley going as the group setting triggered her anxiety. She felt the group had people with too varied levels of support and that 'one size hat doesn't fit all'- Shelley left the group in one break in tears, to have a chat with Caitlin outside. Shelley found Caitlin understanding and decided to stay engaged with the programme but not in the group setting.

After a couple of weeks Shelley spoke to Carol and Caitlin about moving forward on a 1-2-1 basis. After discussions between the three, it seemed this was the best option moving forward.

Shelley has been meeting weekly with Caitlin and has made great progress. The meetings have allowed her to identify what she wants to do and what she wants from a job. Shelley feels more confident, more positive and more excited for the future. She's also been able to start an online course with Knowledge through Growth which will lead to a level two in Mental Health Awareness. She has since finished the course and achieved the qualification.

Shelley and Caitlin sat down and looked through the course together and discussed it every week. She has been offered one interview, has sent one speculative application, sent in CV's and completed online applications. She has also registered with various job boards. However most excitingly Shelley has had a job offer, for a job in a contact centre, through a close referral of her's. The details of this are still being discussed. This opportunity looks promising, but as a backup Shelley is still applying for other opportunities.

Shelley's general wellbeing has also improved as she has also started exercising again, which was something she stopped when she became unwell. She attends five different classes through the week, and accompanies this with healthy food.

This journey has far exceeded my expectations. Caitlin has been a rock and has reassured me every step of the way. Her wisdom, advice and kind nature has contributed to me finding myself again. I have a better idea of the work I am interested in and I continue to pursue my goals with the help of Caitlin. The holistic process that Twining offers has incorporated my emotional and psychological wellbeing; as a result I have become more positive. The future seems a little brighter and I can now see the light at the end of the tunnel
Back to top ↑