23.03.22
Twining Enterprise work with Compass Group UK & Ireland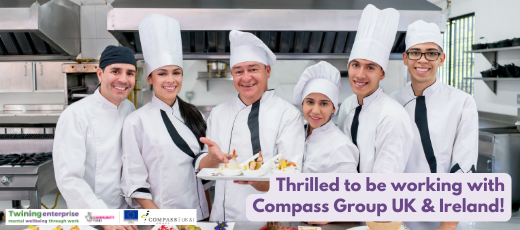 Twining Enterprise is delighted to be working with the Compass Group UK & Ireland to support Twining clients into sustainable employment with this world class provider of catering and facilities support services.
The partnership creates employment opportunities for Twining clients in a range of sectors including business and industry, healthcare, education, sport, leisure and hospitality, as well as defence and government services; whilst Compass Group also benefit from a stream of job ready candidates, motivated to find, secure and sustain fulfilling work.
Talent Acquisition Director at Compass Group, Kerry Crompton-Harris, said "We are recruiting for roles across all sectors all of the time, thereby providing job candidates with a direct pathway to employment. We also offer over 20 different apprenticeship schemes so people can train whilst working full time. Once you have a job working with Compass, we also offer employment perks like an employee assistance and financial wellbeing programme, discounts on popular retail outlets, as well as the usual holiday, sickness and pension cover."
Twining Enterprise Chief Executive, Oliver Jacobs said, "We are thrilled to be working with an organisation like Compass which offers our clients such a vast selection of different job opportunities, in terms of sector, position and location. The application process is also incredibly streamlined using an innovative online 'chat bot' to submit an application in minutes. This increases accessibility to advertised jobs which is beneficial to both Twining and Compass Group."
Twining Employment Specialists will work with their clients to search and apply for jobs across Compass Group UK & Ireland using its online search engine, allowing applicants to drill down and look at job vacancies in particular regions. The web interface can also be adapted to accommodate neuro diversity and disability, providing a truly inclusive user experience.
About Compass Group UK & Ireland
Compass Group UK & Ireland is made up of tens of thousands of talented people that provide expert catering, cleaning, vending, and facilities management services to a range of clients and sectors across England, Scotland, Wales and Ireland.

We deliver great tasting food, memorable experiences, and vital support services for our clients as they host and entertain guests and boost the wellbeing and productivity of workers across all sectors.

We're here to inspire, protect, nourish and energise people and guests. Brightening everyone's day with exceptional service – that's why we're number one in the UK & Ireland for catering and support services.
Compass is a great place for people to thrive, whatever their skills or employment background – we can train on-the-job and are looking for people with a 'can do' attitude.
You can find out more at www.compass-group.co.uk.
About Twining Enterprise
Twining Enterprise exists to improve mental wellbeing through helping people with mental health problems find and stay in work; and for over 25 years it has been changing the lives of individuals across London. To help create the right job opportunities Twining works directly with employers, handpicked for their desire to create an inclusive and diverse workforce which values mental wellbeing, and challenges stigma and discrimination.
If you are 19 or over, unemployed and have a mental health condition, Twining Enterprise's IPS Works programme can help you with finding work, sector-based training or help prepare you for independent job-searching. Our IPS Works project is part funded by the European Social Fund and the National Lottery Community Fund.
You can find out more at www.twiningenterprise.org.uk.
Back to top ↑