9.11.17
Twining join Black History celebrations in Barnet
We attended a Black History Event that was organised by the Barnet Outreach Service. It took place on October 31st at Graham Park Community Centre.
The event was an excellent opportunity to reach out to the community in Barnet, especially the BME community whom we acknowledge have culturally specific barriers to accessing mental health services (here's a young BME spokesperson on our blog about the sames issue.)

Our team met the people who run the Community Centre and are now planning on joining the regular Tuesday wellbeing sessions run at the centre in the future.

Our Employment Specialist Peter said "I enjoyed the event as it gave me a taste of Black history, culture and food. There were some readings about prominent people from the black community from the past, there was also music and dance, some displays of traditional African costumes and we were also given some African style hot food to eat."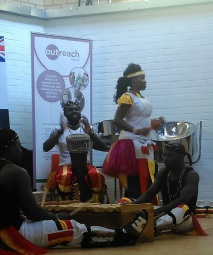 The event featured some fantastic African Drumming.
Back to top ↑