Nicole's five year journey to happiness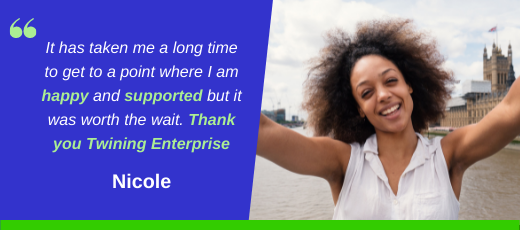 My story begins in 2016 when I moved back to Middlesex with my 4 year old son and my partner. Not a choice I really wanted, but I did what was best for my family.
I started to look for work and found it really hard as I believed that employers were turned off that I had a young child (which I think was unfair) even though I was able to sort childcare for him.
Between 2016 and 2020 I must have been to over 100 job interviews with no success at all so I ended up doing contract work as that is all I could get. I wasn't happy about it but I did what I could to pay the bills.
Over time I started to get more and more depressed and unhappy with how my life was and desperately wanted to change it and make it better. I badly wanted an employer to take me on so I can show them my skills and share my work experience with them.
I was working at British Airways in 2019 doing contract work which came to an end just before Christmas of that year which I was both upsetting but also left me feeling happy about it, because I had money to get presents for my boy. I could also take a break from work. I was then asked to come back in February which I was happy to do as I did enjoy working there.
Then the news of Covid came to England at which the office I was working in had to close. I applied for 1 more job in February (That's the job I have now) before I stopped looking for work. Sadly my mental health went down hill very badly when we went into lock down,
I felt like I didn't want to live any more, everyday was a real struggle and a battle. Home-schooling my son was a real challenge as it was hard for him not being able to see his friends.
The turning point for me to try and turn my life around was in April 2020 when I completely broke down and cried. I contacted Talking Therapy's for help and after talking to them for over 4 hours crying my eyes out about how worthless and useless I felt, they said they can help me and put me in touch with a therapist and a plan that we both agreed would help us.
They set everything up and my therapy began, it was hard at first as I had to admit a lot of things to myself and they put me in touch with a lovely lady called Monique Hewey at Twining Enterprise. She was amazing, she really helped me with my interviews skills and advice on what to say, and that I should try not to be nervous, I managed to get an interview with a company and she gave me great advice and to be honest I don't think I would've got the job if it wasn't for her guidance.
I am now happy in a job that I got and have been supported by. It has taken me a long time to get to a point where I am happy and supported but it was worth the wait.
I hope my story can inspire others not to give up and that there is light at the end of the tunnel, you just have to keep going even if all seems lost and you feel alone, believe me you are not along there is always help out there.
Nicola
Back to top ↑