Pedro lost his job, and got a better life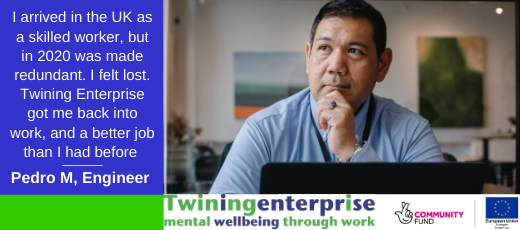 I was brought over to the UK, with all my family, from an overseas country, on a tier 2 visa. After 16 months of a permanent contract, I was made redundant. Having settled down with my family, in a great but foreign country and, suddenly, having to get a new visa, a new job, in order to sustain and preserve your family, during a global pandemic, by myself is more than challenging! Well, that was my situation.
I started to take some actions, such as getting a professional to rewrite my CV, getting in touch with people in my network and relentlessly applying for positions that at least were related to my skills/experience. However, I felt alone, unbalanced and received little responses from my actions.
I started to work with Twining Enterprise in early October 2020 and they made a big difference for me and my family.
We had frequent sessions, and, during these conversations, I was both emotional and technically supported. They pointed me in the right direction in terms of websites to find jobs in line with my skills/experience, tips about how to prepare for interviews etc. Also, they gave me valuable guidance in terms of benefits and financial support I could access. All conversations and actions were taken in a simple but productive approach.
Personally, however, the most valuable aspect was to have a trustworthy person to talk freely and periodically about my concerns, what I was doing, how I was feeling and discuss about actions and decisions to take.
Those conversations helped me to keep the focus, to have a positive attitude for the interviews and remain serene. By the end of October, I received a job offer with a visa. I would not have accomplished it if I had not had such consistent and friendly help! I am incredibly grateful for having been assisted by Twining enterprise. They are amazing.
Pedro M
Back to top ↑