13.07.17
Postnatal psychosis led to a new and rewarding career for Joelle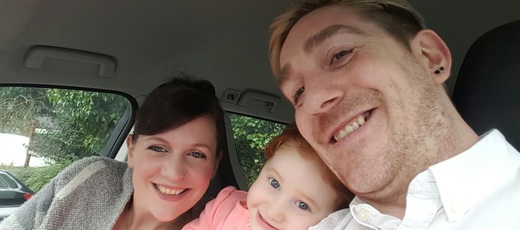 My childhood was probably the same as yours. I was picked on for my weight, got good exam results and made some amazing friends; all pretty average. I was a naughty teenager (aren't most of us?) and had bouts of depression that were put down to teen angst, hormones and exam stress. I didn't realise that my normal life would be turned upside down. Here's my story about work, mental health and following your dreams…
Ten years into my career working for the Fire Service, I was a manager and doing well, despite the stress involved in working in the Public Sector. My life panned out in the traditional way, I moved out of home, met and married my husband, moved house a few times and in all, I was pretty set with my lot. I saw things in my work ranging from awesome to awful but loved the impact my work had on the community. My physical health wasn't great, with a bad back and my weight; but these were overcome with surgery and rehabilitation. My mental health ebbed and flowed with the tide, this was put down to my physical health and the "bad days" that come with living with chronic pain.
Then; I got pregnant. Suddenly dealing with fire deaths was something I could no longer emotionally remove myself from. Seeing people's living conditions was beginning to bother me, the commute was a becoming a pain and it all became to much.
When my daughter was nine months old I returned to work. But my personal life was at an all-time low. From the outside, I had everything a woman could want; a beautiful home, a brilliant husband, a bouncing baby, two dogs and even a Volvo! In truth, it was a façade, I couldn't look my husband in the eye and I was torn between not being able to manage my child and not being able to leave her. I had never been so low. Travelling to work each day I planned my own demise. I knew which bends I could accelerate too hard on, which might mean that I didn't have to go to work, or home, or do anything ever again….
On my first ever Mother's Day my husband left me and one of my dearest friends said the words I had been waiting to hear:
I don't think you're very well Joelle
Two days later I was diagnosed with postnatal depression. As I got to fixing things, with the help of my wonderful husband (who came back when he realised I was ill!), we made a plan to tackle it head on! I hoped that changing jobs might help me, reduce stress and support my treatment which included medication and counselling. I managed to get myself a job working for a debt charity, still helping people, but being part of the orchestra rather than one of the conductors. But that wasn't to be.
Six months later I began experiencing stress-induced psychosis. My symptoms included tactile and visual hallucinations, struggling to concentrate, an inability to use my words effectively in speech and just a general difficulty in being me. As well as erratic mood swings from exceptionally happy (almost giddy) to depressed and crying for what felt like no reason. I wanted to sleep, all the time and continued to experience anxiety.
I was completely broken. So; I quit my job. I decided that concentrating on getting better was the most important thing I could do for myself and my family. You don't know your strength until you have to dig yourself out of the deepest holes of your own mind.
After leaving, I took a respite week with the Fire Fighters Charity at one of their rehabilitation centres. I read and slept (a lot!) and found that I wanted to keep my brain active. I started writing, journaling and such, but then stumbled upon an article on Pinterest about starting a blog. I just went for it and I've been learning ever since. It went from something I was doing as part of the healing process to an obsession (a healthy one for learning more!) to a business plan. It now earns me a monthly income through Affiliate Marketing. The more I concentrated on it, the better I felt and eventually stopped taking my medication after a weaning off process. I have since been discharged from the psychosis team, as they are really happy with my progress. Being able to manage my own time has had a huge part to play in that I feel.
So, in November 2016 I set up my blog and I have been a full-time writer and blogger ever since. It's the best decision I ever made. I am completely recovered; no more drugs, no more therapy and most importantly, back to being me! I even wrote it all in my book because I wanted to help people. It's an outlet for what I call "my crazy", in the sanest possible way!
If nothing else, I'm proof that the answer is out there if you look, find the right people to walk alongside you and believe in your own abilities. And if you need a little help, just like I did, there is no shame in getting it.
About Joelle
Joelle is a freelance writer and blogger, in addition to being a wife, mum and campaigner for mental health awareness. She wrote a book too! Entitled "WTF – The Real Story", it speaks frankly about her family's battle with mental health. (It's had excellent reviews too!)

Joelle's blog, Life Over Laundry, helps busy women claim back their time. Her free course and eBook, Domestic Defiance, helps women to develop the confidence and habits that are essential to pursuing a great life beyond the laundry!
"This is something that all men and women need to read. It's powerful, heart-wrenching and it impacts." Emma
You can buy a copy of Joelle's powerful account of her post-natal depression and psychosis here.
Back to top ↑